OUR STAFF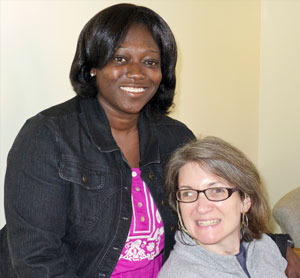 Ricardo Hunter, President
Rick was the first employee of HIRRS in 1991, starting as the rehabilitation coordinator. He has over 25 years of experience working with individuals with brain injury. Rick served as the agency's vice president for 8 years prior to becoming president in 2009. He has a Bachelor's Degree in Psychology from the University of Notre Dame and a Master's Degree in Science, specializing in Not-For-Profit Management, from the University of Maryland's University College.
Maggie Hunter, Director of Admissions and Quality Assurance
Maggie has worked with brain injured adults in various capacities for the past 16 years, in direct care as well as administrative positions. Her current position requires her to monitor quality issues within the entire agency. She is also responsible for meeting with potential clients and matching these individuals to the comprehensive brain injury supports provided by HIRRS, or assisting the individuals and their families in finding appropriate services in Maryland. Maggie graduated with a BA in Psychology from the University of Maryland, College Park. In addition to working in brain rehabilitation, she has also worked with the cognitively challenged and mentally ill at programs in the state.

Janet McCloskey, Director of Community Living Services
Janet has been HIRRS' Director of Community Living Services for the past six years. She has worked with individuals with co-occurring disorders including mental health issues, substance abuse and brain injury, for the past twelve years. Janet completed her Bachelor's Degree in Psychology from Richard Stockton College of New Jersey.
Sarah Gagnon, Director of Vocational Services
Sarah completed her undergraduate degree at St. Bonaventure University prior to earning two Master's level degrees from George Washington University. In addition, she is a Certified Rehabilitation Counselor. Sarah began working at HIRRS as a cognitive rehabilitation assistant and soon moved to the vocational department. In the vocational department, Sarah plans to focus on assessment and placement.
Laura Morgan, Director of Speech-Language Pathologist, Certified Brain Injury Specialist
In 2012, after earning her master's degree in Speech-language Pathology from the University of Tennessee, Laura started her clinical fellowship in Frederick, Maryland. Halfway through the fellowship, Laura was a buckled passenger in a serious motor vehicle accident. She sustained a moderate-severe brain injury in the accident, but as a result of the long rehab process, gained a unique perspective on head injury for the field of Speech Pathology. Laura has shared her clinical reflections from being both a provider and a recipient of this discipline in articles and over a dozen multi-media presentations. Laura restarted and completed her clinical fellowship at HIRRS, while also earning a certification as a brain injury specialist. Laura loves working with individuals and also leading groups at HIRRS, desiring to inspire and assist others in discovering hope after brain injury.