INTERNSHIPS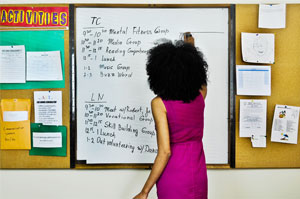 Internships
HIRRS offers unpaid internships linked to courses for credit and to the fulfillment of community service hours.
In most cases, Interns are working on their Masters in Speech Pathology or a Masters in the Social Sciences. HIRRS has hosted interns from Bowie State University, George Washington University, Howard University, James Madison University, Loyola University and Towson University.
Some typical daily tasks of an intern:
Providing speech language services
Facilitating various client groups
Working one-on-one with clients to improve specific skills
Job Coaching
Working with clients on pre-employment Skills
Assisting clients in creating an employment profile
Monitoring client progress toward employment goals
Interested students should check with their university to determine what qualifications off-site supervisors must possess and what procedures their university requires to initiate internships.