DAY TREATMENT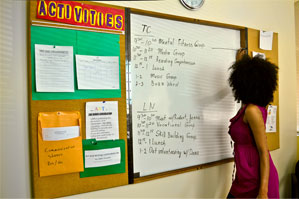 HIRRS operates two day programs in the local area. Individuals are placed depending on their needs and goals. One program focuses on cognitive, employment and academic skills development while the other is centered on life-enrichment, productive activities. Individuals may select components of both programs based on their needs.
Areas addressed include:
Cognitive Rehabilitation
Academic Remediation and Training
Behavioral Skills
Communication Skills
Transportation and Travel
Community Recreation and Social Skills
Money Management and Budgeting
Life Skills
Health and Safety
Pre-Employment Skills
Obtaining Benefits and Social Services
Physical and Emotional Health
The HIRRS curriculum is always expanding. Our staff are always open to helping you find the best way to achieve your goals!